Yesterday marked six months since my mom suddenly passed away.
I don't blog about grief as much as I want to. Well, I mean, I don't want to but I do feel like it's healthy and… important, honestly. Having conversations about loss is essential. As a society, we suck at talking about death. Sure, everyone loves murder podcasts and documentaries but I feel like that really does absolutely nothing to prepare you for the gut-punch that is losing someone important to you. Grief needs to be normalized. We need to learn how to talk about and deal with these feelings so we can be there for our friends when they're going through it and so that we can know how to better care for ourselves when the inevitable happens.
These last six months have had lots of highs and lows. I hate to say it's been the worst six months of my life but uh, I guess technically, it has been. Grief is one heck of a rollercoaster. It hits you out of nowhere the second you take a breath and think "hey, maybe I'm okay after all." It's exhausting.
I used to text my mom nearly every day, we chatted on FaceTime often and even though I hate talking on the phone, I still called regularly. I feel like I have so much I want to say to her. Nothing truly groundbreaking but gosh, it really really sucks to lose the person you liked to bs with the most.
I don't think my mom can read my blog anymore, obviously, but I felt like maybe it'd be therapeutic to type out some of the things I want to say to her…
Things I want to tell you;
Dad bought me candles. I don't think he has any idea how much candles remind me of you since spending stupid amounts of time sniffing them at TJ Maxx was our thing. I cried the whole way home. He's done it two more since that first time. It's really sweet.
I think about you every single day. Multiple times a day. You're in my dreams too. Basically the only thing I dream about these days. In my dreams, you're always alive. I know that you're dead in the dream but you show up, I exclaim 'mom, you're alive?!' and we catch up. I'm glad I'm not dreaming about you being dead but I wish you'd still be here when I woke up.
The kids are getting so big. You'd be so proud of them. I know you always wanted kids from me too but I'm pretty sure the grandkids you already have max out of the cool meter anyway. I love them so much.
I try to bake cookies for dad every week. They're not as good as yours but everyone seems to enjoy them anyway.
I bought a ring with your ashes and hair inside. It had a long turn around time but I secretly hope it shows up today. I know my first thought upon opening it will be "Ah, I gotta show mom!" That happens a lot.
I'm gonna be in a magazine! I wanted to call you as soon as I got off the phone with them.
Thanks for always letting me be me and never questioning my style and choices, no matter how whack they were. Looking through old photos has me wondering what the heck I was thinking a lot. You never made me feel stupid, even though I definitely looked like a total dork a lot of the time.
We work on the bus every weekend. I feel guilty because we didn't do this while you were here. You'd have loved all the family time. Some weeks bus day just can't come soon enough for me.
Speaking of the bus, we painted it your favorite color.
I really want to move closer to home. I want to be closer to family. Again, I feel bad this revelation didn't come sooner.
Everything feels different.
I miss you a ton.
I love you.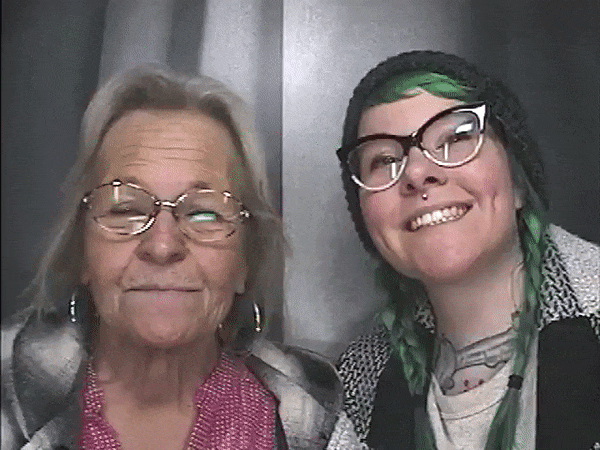 More posts on grief, my mom and loss in general –
▴ my mother's plants ▴ grief & road trips ▴ I cry over four leaf clovers ▴ grieving in the digital age ▴ the greatest loss