This post is a love letter to *ahem* a review of my favorite overalls, the Duluth Women's Heirloom Gardening Bib Overalls.
It is no secret I love overalls. I've reverted to the style I rocked as a kid and I basically only wear overalls. They're nice to work in, they're comfy and, perhaps most importantly, unlike most other women's clothing they have POCKETS. So, I am always on the hunt for my next pair.
Last year I tried out Duluth's overalls for the first time and it's been a full on obsession ever since. Let me tell you more…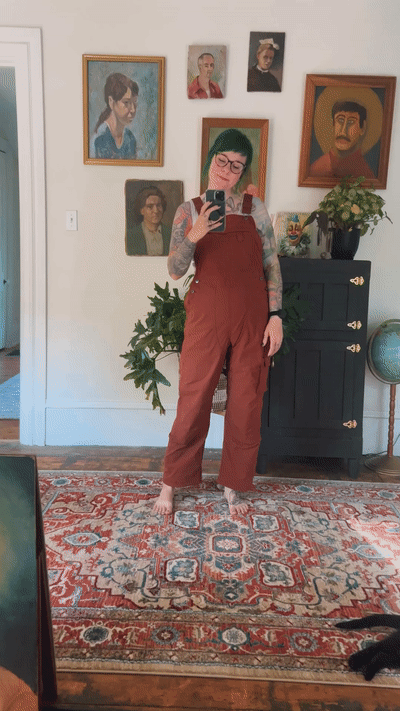 Duluth Trading Company is known for producing durable and functional workwear, and these gardening overalls are no exception. They're made from a breathable and sturdy cotton/polyester blend fabric that is designed to withstand the rigors of gardening and other outdoor work. In a word? They're AMAZING.
details
4.8-oz. DuluthFlex® ripstop fabric is super-stretchy and strong.
Dirt brushes right off – keep it in the garden!
No-slip elasticized straps with upgraded hardware that stays clipped.
Double-chapped legs for poke protection.
Double-layer knees with bulk-free bonded water barrier; accepts knee pads, sold separately
12 pockets, including right thigh cargo pocket with tuckable flap, left thigh utility pockets, 2 back patch pockets and pruner loop. TWELVE! T-W-E-L-V-E pockets!
Bib storage system with zippered pocket/phone sleeve, pencil slots and sunglasses loop.
UPF 50 sun protection.
Relaxed hip and thigh; straight leg.
Machine washable.
wear & tear
These babies have seen their fair share of garden time. One thing I noticed right away was that their claim of 'dirt brushes right off' is surprisingly actually true!? They seem to stay so much cleaner than any thing else I wear while crawling around in the dirt. It's kind of crazy!
I own three pairs. All of which have held up beautifully. I'm one of those people who washes my work clothes after every single wear so my overalls have been washed A LOT. They still look good as new! Literally no fading, pilling or other signs of their constant use.
I had one very small issue a while back where a button came off the side while in the washing machine. Duluth has a very generous exchange policy so I was able to just take them back to the store and get a brand spankin' new pair without any hassle. I literally walked up to the counter said "Hi, one of my buttons fell off in the wash!" and the gal behind the counter started organizing my exchange despite the fact they'd been washed and worn many times previously.
sizing
Sizing is definitely the one thing you have to look out for with these overalls. I am a pretty consistent size large in clothing, especially bottoms. My favorite pair of pants are a size 12 but others that fit well in my wardrobe are size 10. In these overalls? I'm a small. I've made sure to include lots of photos in this post, as well as a gif of me wiggling around so you can see how they fit on me.
returns & exchanges
With anything, online especially, I like to know that if I straight up hate something or it just fits weird I'm not going to be stuck with it. As I mentioned above, Duluth as a really great exchange policy. Shipping is free if you're exchanging size or color! They also have a 'No Bull Guarantee' which means if you are not satisfied with any item you purchase from Duluth Trading, return it for a refund within one year. After one year, they will also consider returns for items that are defective or don't perform as designed. No Bull means if something goes wrong, they will always treat you right. Amazing, right!?
As you can see, I have zero complaints about these overalls. The price is a bit more steep than I'd like but this is definitely one of those things where you get what you pay for! Take it from this cheapskate, they are worth the price. They're easily one of my favorite things in my wardrobe.
Now, what are you waiting for, grab a pair!